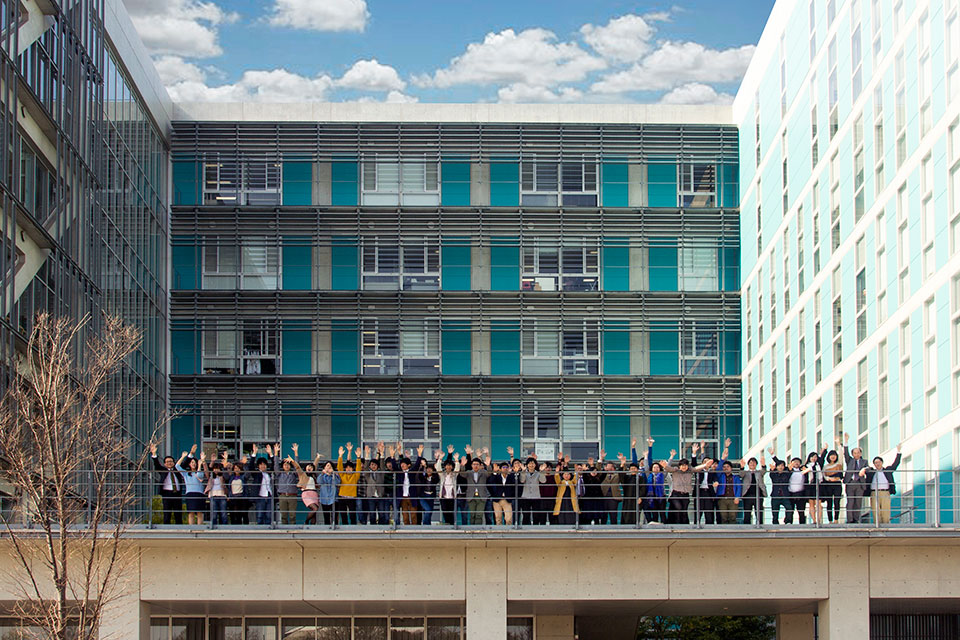 News
2021/12/23 Entrance Exam: About the English examination in FY 2023 (to be held in August 2022):We require all the applicants to submit results of TOEFL-iBT® Test as a proof of English-language competency. We advise those who are planning to take the entrance exam to take TOEFL-iBT test at the earliest timing.

We will not conduct a TOEFL-ITP® Test in our examination nor a substitute English-language competency test.
We regard TOEFL iBT Special Home Edition is equivalent to TOEFL-iBT.
We do not accept a result of TOEFL-ITP® Test.
Note that the result of a TOEFL-iBT exam has expiration.
2021/12/22 The Fifth WAIN Seminar was held online. The speakers were:

Hiroyasu Satoh: COVID-19 and sewer systems
Baoxin Zhang(Kozaki Lab):Simulation of ventilation of lecture rooms by CFD to reduce infection risk
Jun Okada (Deguchi Lab):About the actual situation of introduction of telework under COVID-19
2021/12/03
Midterm presentations of doctor course students were held. 2021/11/24 The Fourth WAIN Seminar was held online.

Speaker: Dr. Miki Mochizuki
Title: "Sociology of Revival from Earthquake and Purpose of Life" and Afterwards
2021/10/13 The Third WAIN Seminar was held online.
2021/09/30 Guidance for new comer students was held.
2021/09/27 Midterm presentations of master course students were held.
2021/09/24 Commencement ceremony was held.
2021/08/28 Entrance Exam: In 2022 Entrance Exam, the successful candidates for master/doctor courses have been listed here.
2021/08/24 Entrance Exam: The master course applicants qualified for oral ecamination has been listed (here). (FY2022 Entrance Exam)
2021/07/21 The second WAIN seminar was held online. We had speech by new D1 students (this time, Yuki Igeta, Jun Okada, and Wataru Nakamura) about their experiences during master study. In addition, students from Jun Sato Lab. presented about their art entitled UKIGUMO. Congratulation for winning a big prize!
2021/07/16 Defense of master students expected to graduate coming September was held.
2021/06/10 Entrance Exam: The specification of the environment to take the online entrance exam has been posted here in the Entrance Exam information page.
2021/06/10 Midterm presentation for doctor course will be held at 9:30, June 16 (Wed).
2021/05/26 WAIN Seminar was held on line.
2021/05/04 Entrance Exam: We sent an Email that contains the detailed information about the Briefing Session of the FY2022 Entrance Examination to the registered Email address. When you do not find the Email from us even though you registered, please let us know via: admission[at]sbk.k.u-tokyo.ac.jp (replace [at] with @).
2021/04/14 Midterm presentations of master course students for September graduation were held.
2021/04/12 Entrance Exam: We opened the registration page for the Briefing Session of the FY2022 Entrance Examination. The session will be held on May 5th. The details are posted here.
2021/04/12 Entrance Exam: Information for FY2022 Entrance Examination (to be held in coming August) has been updated. The updated information is here.
2021/04/02 Guidance for new students will be held this afternoon (via online).
2021/04/02 Entrance Exam: Problems for FY2021 Entrance Examination (held Aug. 2021) has been posted here.
> Former Articles
PR

GSFS Magazines
(PDF)
No.36 (Sep, 2020)
NEW
Back issues

GSFS Pamphlet
(PDF)
(Aug, 2012)

GSFS Video
(PDF)
(Mar, 2016)
Publications
World Created by Socio-Cultural Environmental Studies — World of Environment, Vol. 5
(Jan, 2013)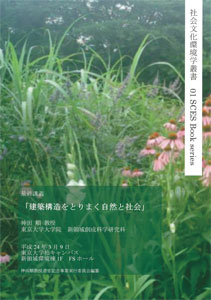 Prof. Kanda's Final Lecture: Nature and Society Surrounding Building Structure — 01 SCES Book Series
(Oct, 2012)
Think about Environments in Tokyo
(Jun, 2002)